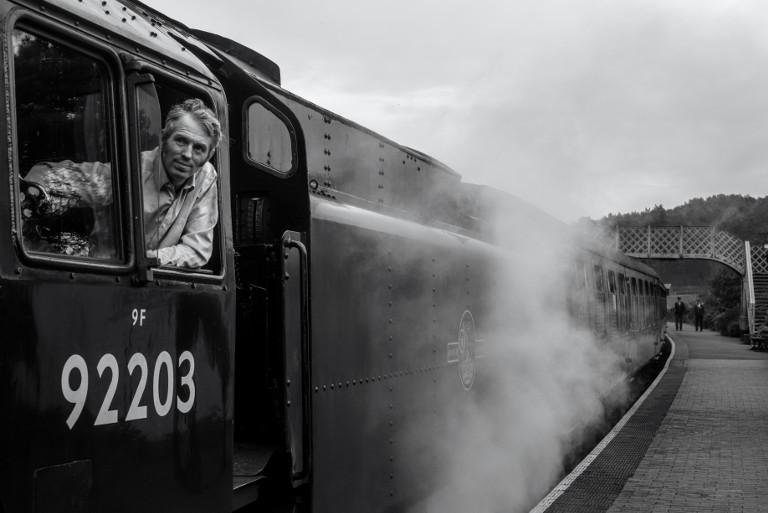 We're rolling out of the station, slowly picking up speed. The Care Combine journey has started and we're on track with the journey to reshape dementia care. All we need now is a bit of momentum.
So how do we build momentum?
Weren't you listening at school? Momentum = velocity x mass.
What's the journey we're on?
If you're new to the site, find out how we plan to transform dementia care, benefitting those diagnosed, their carers, their families, and the whole country. Read about The Bine.
Velocity
The speed of travel.
I'm going as fast as I can. But there are only so many hours in one person's day and so many thoughts in one person's brain. When other people chip in as well, everything starts to accelerate.
A new idea, a link – fantastic! That's the way we start picking up speed. By sharing ideas together – particularly ideas for meaningful, purposeful activities. 
Mass
I'm pleased to see the increasing numbers of visitors to the website. We've only been in operation for just over a month, and we're already averaging around 30 readers a day. That's a solid start.
But it's still a drop in the ocean. According to
a 2012 YouGov poll
, 24.6 million people in the UK – that's 38% of the population – know a family member or close friend who has dementia. Our Bine Centre proposals have the potential to improve the wellbeing of millions of people with dementia and their carers, while saving billions in the cost of care (as we explain in
this newsletter
). But nothing's likely to happen unless our message reaches that mass audience.
How do we spread the word? I'm grateful to those of you who are already sharing our content via Facebook, LinkedIn, Twitter. It really does make a difference, particularly if you add a personal endorsement, explaining why you like an article or think it's important.
But just adding a short comment on social media or at the foot of a post is also helpful. It's a bit like when you see a crowd gathering around a shop window: you want to find out what's going on, so you join the crowd to take a look too. When people see something in their Facebook feed attracting lots of interesting comments, they're less likely to scroll straight past.
If you 'Like' The Care Combine Facebook page, and add the occasional comment, it'll raise our profile. With the new Facebook algorithms, commenting will mean it's more likely you'll see our posts there too.
Sometimes though, I think we obsess too much about social media. By far the best way to get people interested in ideas you believe in is having a real conversation with a real person, face-to-face. Not canvassing door-to-door like a politician or a charity collector might, but just bringing it up in the course of conversation … 'I read something that really got me thinking today …'
Some of you reading this will be involved with dementia groups. Great! Tell them about our plans for The Bine. What do they think? Perhaps they'll like the idea. Perhaps they won't. It doesn't matter. Just talking about it moves the conversation forward. Might there be other ways to improve dementia care? Do they have suggestions?
But only a tiny proportion of our 38% belong to a dementia group. So how do we broach the subject with the people we mix with in our everyday lives – work colleagues, mums we always meet at the school gate, the folks we meet at the club? Dementia's not exactly a hot topic, is it, even though it affects so many of our lives? 
So here's a thought. Suppose we wore something or carried something or did something that would capture their attention and encourage them to start the conversation. 'That's nice. What is it …?'
But what is that 'something'? You tell me. 
Here's your chance to start sharing your ideas and help The Care Combine to gather momentum … until we become an irresistible force for change.
Enjoying our site?
Then don't miss a post. Our weekly Monday newsletter includes a digest of all the week's articles.

Get exclusive content too:

Wednesdays: Carer tips
Fridays: Latest Bine updates