We're aiming to build a collection of dementia anecdotes and short stories, as I explained in Writing Your Dementia Stories. While I wait for yours to arrive (hint!), here's another of mine.
Written in the Spring of 2015, when Lena's Alzheimers was just showing signs of moving beyond the mild stage, there's no lesson here, just an attempt to capture feelings in words.
For most people getting into the car is just like putting on your shoes in the morning. It's a habit, something you do all the time, every day.
Not for us. We decided to give up the car several years ago, pre-Alzheimers. Before, living in the Mid-East, we seemed to spend half our lives behind the wheel, out to meet clients, ferrying our kids back and forth, even going 200 yards to the shop – the car was our shield against the heat and humidity. But back in the UK, there was public transport. Walking would get us into shape … and if we ever needed a car we could always hire.
We didn't say much, didn't need to.  A few times Lena asked where we were going. 'The Lake District.' 'Oh, yes. I remember.'  But most of the time, we were just content to be there, wherever there was, in control again. Content – because there was nothing to do, nothing to organise, no need to plan the next meal or count the knives and forks for the table, no clothes to sort and re-sort, no pacing up and down the stairs, no questions about what was planned next for today. Driving, just driving, filled all the empty spaces.
Evening already – we'd spent a nostalgic, laid-back afternoon in Huddersfield with my long-lost pal from student days, Dale – and we'd reached Ambleside with just half-an-hour to check into our B&B.  But where was the place? My first time in the place and the car's GPS had defeated me, my mobile's GPS had abandoned me. So it was park and walk time.
That's when we had the first wobble of the day.
– I think I'd better call them and ask.  I've got the number.
– Call who?– The people at the B&B.
– Why are you calling them?
– To find out where they are.
– But why do we need to know where they are?
– Because that's where we're staying tonight.
– Are we staying in someone else's house? Aren't we going home?
– No, we're staying tonight so we can have some fun here tomorrow.  Don't you want to?
Her face told me she wasn't sure.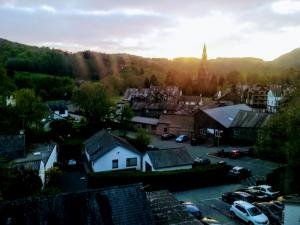 But when we got up to the room, Lena's worries went out of the window. Literally. A spectacular view down across the village with its perfectly-positioned church, and the sun gently easing itself down behind the hilltop beyond. Today had been cold and cloudy, but tomorrow promised well.
So did the bed. Plumped-up cushions, eider-soft, an invitation to sprawl. Then there was coffee and biscuits, either here in the room, or free anytime in the lounge downstairs. While I was fetching the bag from the car, Lena got chatting with the girl on reception. Turned out there was a connection – she'd lived in Sweden for a couple of years. All was well.
Ambleside, just before the season, a village full of comfortable nooks and mysterious crannies. As darkness fell, we pressed our noses against sweet-shop windows, hovered outside pub doorways, hesitated to enter dangerous alleys.
But now, as our day ended, we were sitting in a Thai restaurant. Lena leaves the ordering to me … but then she always did. Whatever I wanted, she wanted too – that's why I always swapped my order at the last minute.
Lena was enjoying herself, taking it all in.
– This place is just like some of the restaurants in Gamla Stan.
– Skål.
– Skål älskling.
We touched glasses.
– You see that … thing over there.
– That one – the Buddha?
– Yes, I really like him. I liked him when I was here last time.
We stepped outside, comfortable, happy. This was a million miles from Salford.
– Listen.
– What?
– Do you hear? …  There's no noise. Just the sound of people's voices. There's no traffic humming away in the background.
She listened. The night seemed to draw in closer.
– You're right. It's beautiful.
We may not be able to share too much of the past any more, but sharing the present is still precious.
Other episodes in this story:
Enjoying our site?
Then don't miss a post. Our weekly Sunday newsletter includes a digest of all the week's articles.

Get exclusive content too:

Tuesdays: Carer tips
Fridays: Latest Bine updates