One of my favourite memories from our dementia journey – I wish I'd recorded more of these stories at the time. When we took this weekend break in the Lake District, it was around five years since I'd first detected changes in Lena's behaviour – and two years since the symptoms had been formally diagnosed as Alzheimers. 
Dementia and imagination – evidence that there are still good times to be shared and enjoyed for years into the illness.
Coming down the country lane towards us, a silver-haired couple with all the right gear: wind jackets, backpacks, walking boots and poles. Us? We were clearly amateurs. Shoes for city pavements, casual jumpers, and a shopping bag slung across my shoulder. But we weren't there for a walking holiday. It was just a spur of the moment decision to follow a signpost.
GRASMERE – 5M.
Wordsworth country then. We probably wouldn't go all the way, but it was a lovely afternoon for a stroll. And we were well-provisioned, with a couple of oranges and a packet of crisps in my bag.
After an hour on the trail, we'd learnt the country code. At about ten yards distance a smile, then a nod, eye-contact with each of the passers-by.
– Afternoon.
– Afternoon.
They were past, and walked away out of my life. But not Lena's.
– That's exactly where we saw them yesterday.
A month ago, I'd have reminded her that this time yesterday we were a hundred miles away. And that we'd never been here before. And probably never seen the couple. But I'm learning that it's not worth arguing with Alzheimer's logic.
– Mmm.
She'll probably see them in the same place tomorrow, back at home in Salford. Unless, by a trillion to one chance, we actually do see them. Then she'll deny it.
---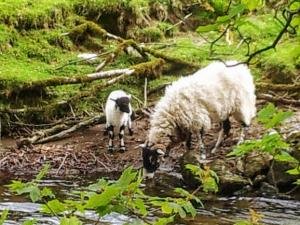 They could easily have called it The Sheep District – although perhaps that wouldn't have the same tourist appeal.  Sheep are everywhere, grazing mostly, or sleeping. Lambs too at this time of year, bleating piteously half-way up a hillside, or vigorously pushing at a mother's teats, little tails twirling.
All white, black-faced. Except for one, who stood watching us cautiously, wall-eyed, a few feet away.  Brown – and Lena called out:
– Baa baa brown sheep black …
Now if only I could come up with a tune.
There's something about walking that seems to set the creative juices flowing. Not walking from A to B, just walking for the sake of it.
Every few minutes on that four-hour walk, Lena spotted something that reminded her of her brothers, her parents, the family summer-house in the Swedish countryside. A bluebell-carpeted bank, a glimpse of the stream below.
She struggles sometimes to name and place things, but there's nothing wrong with her vision or imagination.
– Look at those trees.
There are a hundred trees.  What's she looking at?
– Where? Over there?
– Yes, two together … look, my brothers made one like that.
Two? Ah. I saw it. Two low-lying branches, coiled together, tensioned, a natural catapult at the side of the stream.
– So was it somewhere you played?
– Yes they were so nice to me. They always let me play.
Visions of little sister Lena being shot through the air.  No, surely not!
We turned a corner on the track, and Lena gasped.
– Look at HIM!
– Who? There's no-one here.
– No. Him! Look at his face.
– What are you talking about? There's no face.
– No here. Come here.
She pulled me to her, pointed.  And there, in the bank, he was. The watcher on the road.
– Afternoon.
No response this time.
But then he's not a walker, and we won't see him in Salford tomorrow. He'll stay right here with his memories locked in forever. Invisible to everyone – except those who have the imagination to see him.
If you enjoyed our story, please share it
Enjoying our site?
Then don't miss a post. Our weekly Monday newsletter includes a digest of all the week's articles.

Get exclusive content too:

Wednesdays: Carer tips
Fridays: Latest Bine updates