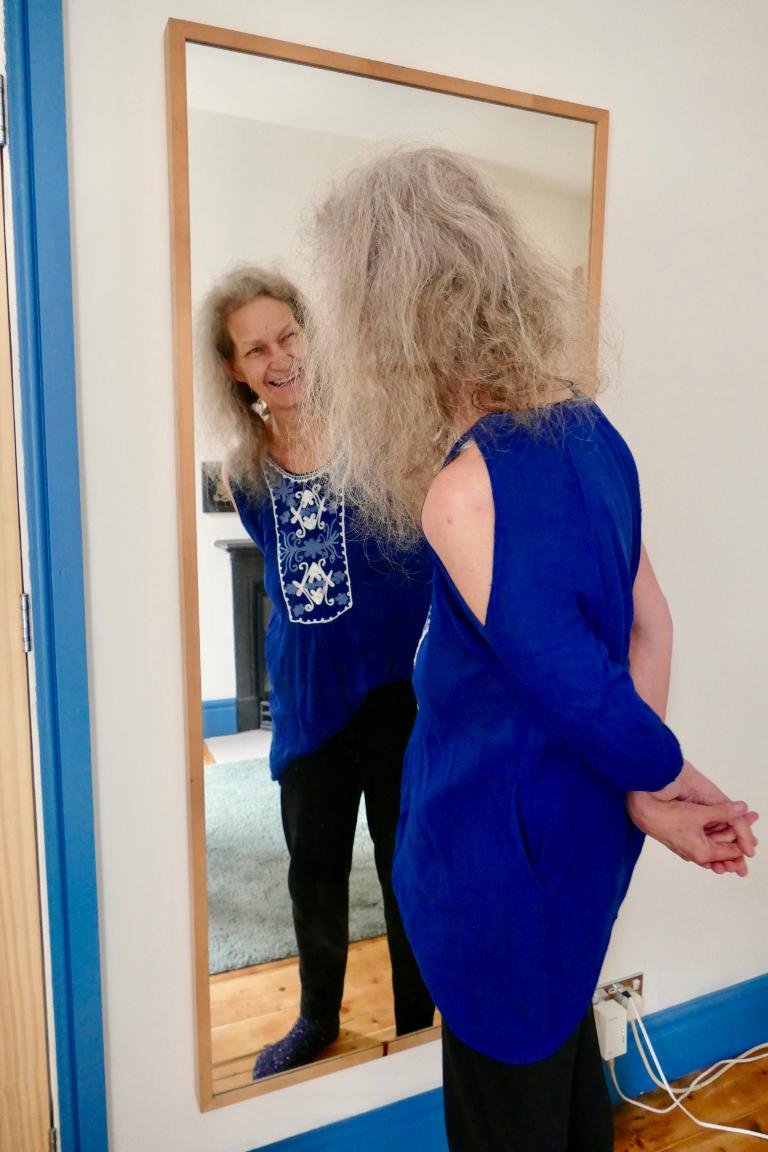 The dementia friend
Lena has a new friend.
She lives in a curious one-dimensional world where everything's gone into reverse. She's locked in there, can't step out. Lena knows exactly how she feels. They're two of a kind.
She seems vaguely familiar, although Lena doesn't know her name – I've asked her. At first they didn't talk much, but these days Lena stops for a natter every time she comes to see me in my study.
She's much more fun than the people Lena sees on the TV. They're not really interested in her, too much wrapped up in their own small worlds. This woman's different. She's got time for Lena, she reacts to her, she's got a natural easy empathy.
Lena checks out what she's wearing. She likes her taste in clothes. The woman's checking her out too.
She pulls a face. She gets one back. Lena knows it's not nice to laugh at people but the woman looks so funny that she can't hold the giggle back. It bursts out, and suddenly they're both cracking up at each other.
I wish I knew what was really going on in Lena's head, but when she's happy, I'm happy. She stands there for ages, while I'm typing out this story.
But her new friend is dangerous. When she's with someone she really likes, Lena likes to hold their hand, maybe give them a little hug. She tries.
I'm terrified the illusion could be shattered.
– Come back away from the mirror, Lena! It could fall and break!
I knew that the heavy mirror was only supported by a double-thickness of string, hung across a couple of screws into the stud-wall. I knew because I was the one who fixed it there. At the time it seemed strong enough. It suddenly didn't, now Lena's friend had arrived.
Lena hears the urgency in my voice from another world, and haltingly obeys.
– Yes. Yes. Of course. I know. I know.
She comes to stand behind my chair.
But two minutes later, she's back at the mirror, talking, pointing, pouting. And she moves in close again.
– Lena, no! Please stand away. It's dangerous.
I have a problem. As old habits fall away, new habits replace them. I know Lena will want to see her dementia friend every day now. But I don't want to break the two of them up and spoil their fun.
Where's my screwdriver?
Why stories?
The Care Combine is all about developing a new approach to dementia care. Opening Bine Centres where people with the illness can spend their days involved in meaningful projects and activities, giving their carers the opportunity to stay at work or pursue their own interests. So how are stories like this relevant?
One of our key objectives is to develop the understanding and skills of all the people who'll be working at The Bine. Training will be ongoing, with a new topic – a talking-point followed by practical exercises – for all staff every week.
We could base our training on a set of instructional materials. But my experience as a trainer has shown me that shared and debated stories help us not just to learn, but to understand at a deeper level. And the lessons tend to stick.
So these stories aren't just a scrapbook of my memories – important though that is to me. They're also the basis for our Bine training programme.
What do you think? Do stories help you to learn and understand? Has this story given you any new insights? If so, how would you describe them – in a sentence or two? (Use our Comments box below.)
Adding to our story collection
If you're living with dementia yourself, or someone close to you has been diagnosed, do you have a story like this to add to our training portfolio for the Bine support team? If so, please email me with a brief summary of your story, and I'll tell you what to do next.
Enjoying our site?
Then don't miss a post. Our weekly Monday newsletter includes a digest of all the previous week's articles.

Get exclusive content too:

Wednesdays: Carer tips
Fridays: Latest Bine updates