For the last two weekends, my friend Tony Hillier has been posting photos in his Facebook feed that have brought a smile to my face. They show my boyhood running hero, Ron Hill, on the Saturday morning Hyde parkrun. Walking these days, not running, but still giving grassroots support to the sport he loves. Now 80, Ron revealed earlier this year that he'd been diagnosed with Alzheimers.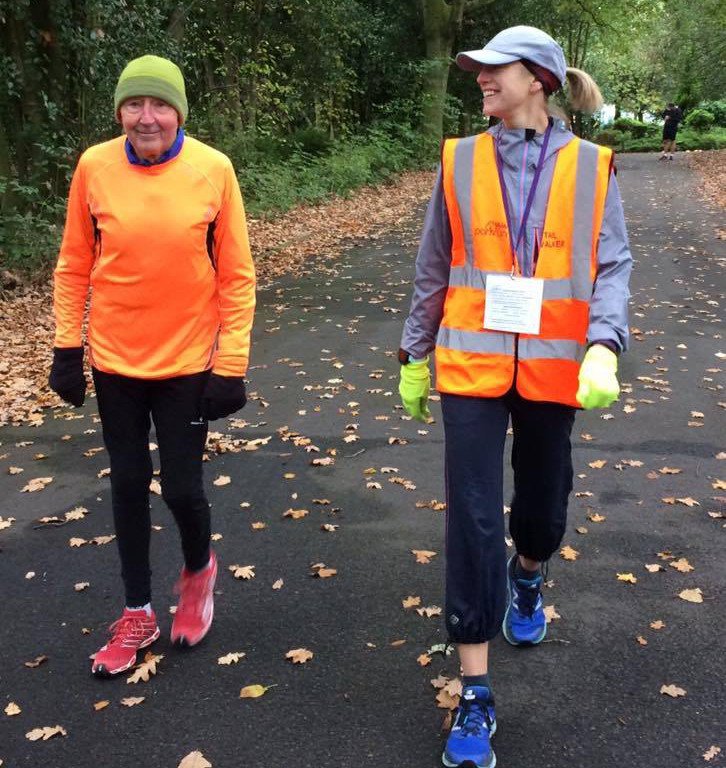 Back in the late 1960s I was a decent school runner. Times were very different then. Nobody ran for fun. Most of the kids at my school regarded cross country as a cruel and unusual punishment. So I could never really admit that I enjoyed pushing myself up the killer hill that featured twice in our official school matches or splashing through the thick mud in the woods. But secretly I did. I liked it even more when I started winning.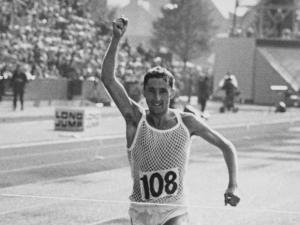 There was a winner who was my running hero. Ron Hill. Apart from the Olympics there wasn't a lot of athletics coverage on TV in those days, but we kept seeing clips of Ron because he kept breaking world records. For 10 miles, for 15 miles, for 25 kilometres. In 1969 he was the European marathon champion, and then in 1970 became the first Brit to win the Boston Marathon, shattering the previous record time by over three minutes. Later in 1970, he ran the second fastest marathon in history to become the Commonwealth champion. We had high hopes of Ron in the 72 Olympics, but he finished only 6th. For all his other successes, Ron never managed to bring home an Olympic medal.
Ron's exploits got me thinking about running a marathon some day. One of the highlights of my young life had been completing a 50-mile walk – there was a brief craze for them in the 60s, heralding the popularity of today's mass-marathons. But could I actually run 26 miles 385 yards? It would take me 50 years to find out.
After school, it was university in London for me. The sports pitches were way out of the city. And Swinging London wasn't Running London. My running career was over. My marathon dream was dead. By the time everyone started going marathon-mad in the UK from the 1980s, I was living a sedentary life in the Mid-East. The nearest I ever got to exercise was typing.
It was only after the shock of my wife's Alzheimer's diagnosis I decided I really ought to try to get back in shape. I started going to the gym, cut the calories … and before I knew it, I was running. Not well, and certainly not fast at first. But now everyone seemed to be plodding the streets and there was plenty of encouragement. I heard there was a 5 kilometre fun run taking place at nearby Salford Quays every Thursday evening, thought I'd give it a try – and I was hooked. Part of the fun was seeing if I could go a little faster this week than last week. It was almost as if I could put ageing into reverse and shake a little fist at Alzheimers, which hung like a cloud over the rest of our lives.
That was when I came across Ron Hill again. Most sports stars retire when they pass their peak, and live on past glories. Not Ron. Several of the other other runners I met talked about being on a streak, running every day just like the famous Ron Hill. He'd not missed training for over 50 years, running at least a mile every single day since December 20th 1964 – even after he'd broken his sternum in a car accident in 1993.
Manchester and the north-west of England is full of running, and I started entering lots of the big events. At Bolton, I ran on the track where Ron had set a couple of his world records. Often, as thousands of us jostled on the start-line, I'd hear the announcement that local legend Ron Hill was running with us today, and we'd all show our respect by clapping. Once or twice I caught sight of him in the crowd.
Then on January 28th 2017 – after 19,032 consecutive days – the streak came to an end. There was a short announcement: "Due to ill health Ron has decided to take a day off." Later we learned that he'd experienced severe chest pain on that last mile run. "I felt like I was going to die", he said.
Perhaps he couldn't run those big events any more, but nothing was going to stop Ron turning up to support the sport he's always loved – now to award the prizes. And that's how I finally got to thank my long-time hero and shake his hand – when I won my age-group at the City of Salford 10K race in September 2017.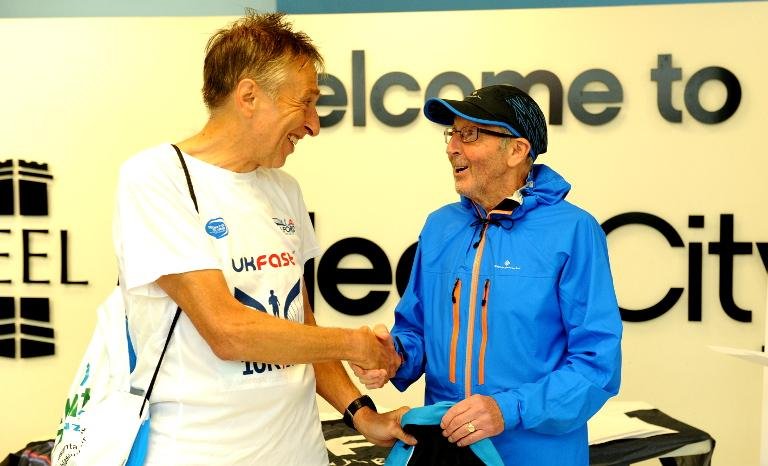 Just a few months later, in March this year, there was another announcement. Ron had been diagnosed with Alzheimers.
So would this stop him? What would you expect from Ron? No way! This was his response:
With his appearance at parkrun, Ron shows that he means every word of it. He continues to inspire me today every bit as much as he did 50 years ago. That's some streak!
Our story – yours to share:
Other running-related stories:
Enjoying our site?
Then don't miss a post. Our weekly Monday newsletter includes a digest of all the previous week's articles.

Get exclusive content too:

Wednesdays: Carer tips
Fridays: Latest Bine updates