"Embrace each day and enjoy it to its fullest." That's what dementia activist Derek Fisher tweeted on Wednesday.
I can't think of many reasons to be grateful to dementia … but there is one. It forces you to live in the present – at least it does if you want any kind of life at all. In Lena's mind the past is a blank sheet, so there's not a lot of point in me trying to jog her memory about it. What I can do is to make the most of the right now. As I said in my video last week, if 'the good old days' is no longer an option, then at least let's have good new days.
Prompted by Derek's tweet, I started figuring out how to embrace my Wednesday. We had nothing planned – like most days. But wait! It was December 13th – and back at home in Sweden, Lena would have been celebrating Lucia – the prelude to Christmas.
When the kids were young, wherever we were in the world, we always joined up with the Swedish community for Lucia. Like many of the best celebrations, it's a quirky combination of religious and pagan ritual. There's a candlelit procession for the children: the girls are dressed in flowing white robes representing Lucia, the young girl who was one of Christianity's first martyrs; the boys are turned out either as junior wizards or gingerbread men, representing … uh, wizards and gingerbread men. There's singing. And then, so the adults don't feel left out, there's eating and drinking –  glögg, the Swedish mulled wine, and gingerbread and special saffron rolls.
So why not celebrate Lucia? – we hadn't done it for at least 15 years. We couldn't do the procession – we were lacking a quorum – but I could certainly manage the glögg and the saffransbulllar. Look …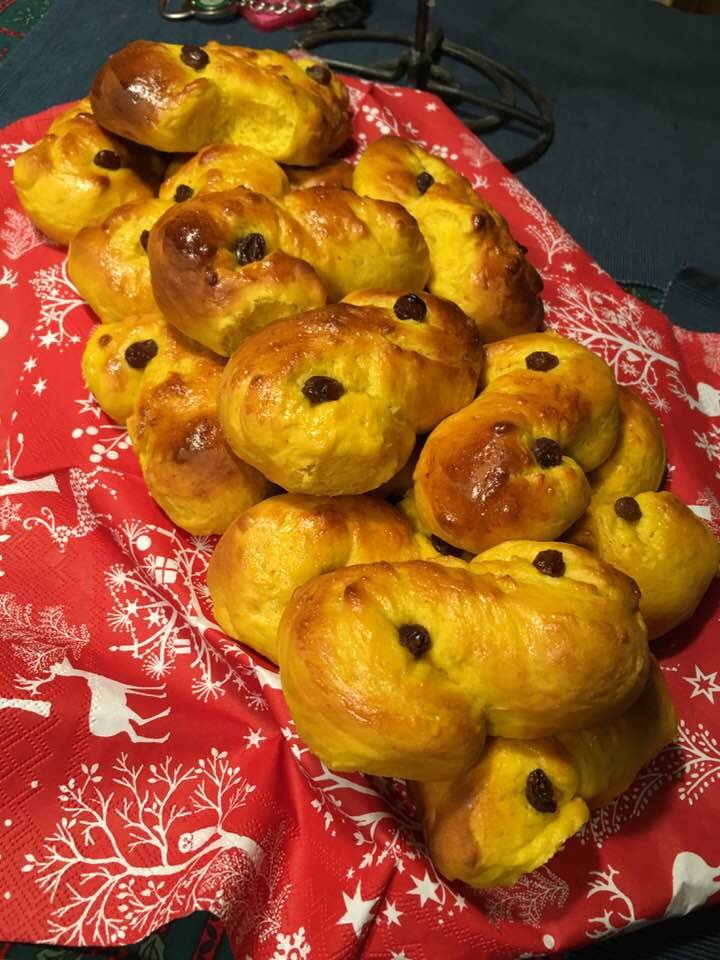 The day was special. Hunting down the saffron. The time spent in the kitchen. The smell of baking wafting through the house. The excitement in our now grown-up kids' eyes as they came by and saw the bullar waiting for them on the table. And then we sat around the table and swapped memories from Lucia all those years ago. What was the name of the people who always hosted the event in Bahrain? Where was their house, with that huge garden? The woman was one of Lena's friends, wasn't she?
Lena couldn't help us. No memories were sparked. Once, not so long ago, she was fiercely proud to be Swedish and treasured all her traditions. But now nationality is just an alien concept, her history is lost.
– D'you like the saffransbullar?
– Mmm.
– Did your Mamma used to make them for you?
– No.
– Not at Lucia?
Lena had no idea what we were talking about. So did she get anything out of the day? Maybe she can't express it but I know she did. Spending the afternoon together in the kitchen, having the kids over in the evening .. she likes being around people all day and it made a change to the normal routine. And she can be picky about her food these days – quite often she needs a lot of encouragement. But not with the buns. Or the glögg!
Over the last few months I've written lots about putting meaning and purpose and friendship and fun into life. On Wednesday it suddenly came home to me how little time I've actually spent following my own advice. Too much thinking, too much writing, and not enough action. Too much leaving Lena to herself.
Making good new days – embracing them – takes thought, planning and time. Just like making my buns. They don't just happen.
So I'm making my New Year's resolution early. Starting each day with something new in our schedule. Something Lena will enjoy and I'll remember.
An audio postscript today. Writing this, I was reminded of one of my favourite poems, John Donne's 'Nocturnal Upon St Lucy's Day', which I first read long before meeting Lena and learning the Swedish tradition. So, with a few other thoughts, here's the poem.
I mentioned the video I posted last week. Check out these stories on my new YouTube channel. If you enjoy them, subscribe to the channel – that'll encourage me to make more.
Enjoying our site?
Then don't miss a post. Our weekly Monday newsletter includes a digest of all the previous week's articles.

Get exclusive content too:

Wednesdays: Carer tips
Fridays: Latest Bine updates