Despite fears that Brexit uncertainties would dampen confidence, trading on the Manchester Christmas markets opened on Friday on a high note. Our reporters were on hand. Mainly for the food.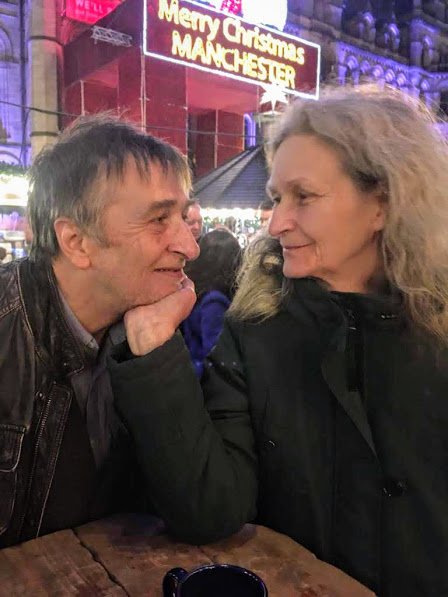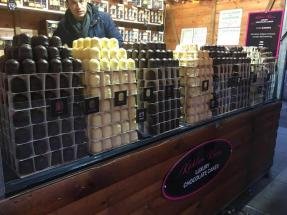 Chocolate stocks draw strong consumer interest
This is why we were there. Not really to eat all the chocolate today, but to ogle it and to plan our investments over the coming weeks. Such beautiful stalls – and Lena wanted to pick up and check out everything. You could say this was inappropriate behaviour. Or you could say the displays hit the mark.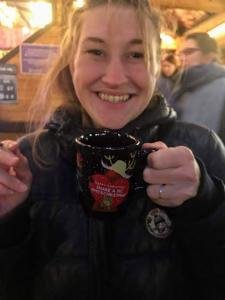 Glühwein opens higher; steadies in later trading
Our researcher, Annelie, was shocked to be charged £7.50 for her favourite market tipple. So there was relief all round when we heard that £3 was the refundable short-term deposit on the cup, up from £1 last year. A case of traders rationalising their costs – no cause to panic.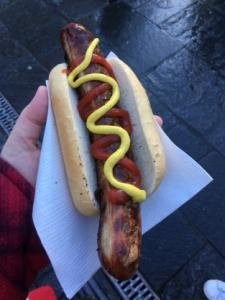 Hot dogs no longer falling 
For a Swede like Lena, no visit to a Christmas market is complete without a varmkorv – a hot-dog. But she struggled with the grip last year, and ended up dropping the sausage. So this year, I held it and started feeding her. But Annelie intervened. 'Just give her the sausage first, while you hold the roll.' 'Great idea. Why didn't I think of that?' 'You did. It was in your newsletter.' 
Some expert I am! After that, Lena managed perfectly. Dementia care's all about learning to adjust.
Tech display sparks rally 
I'm posting the fun pictures. That's what we always do on social media, most of us. But let's be honest, Lena didn't spend the whole afternoon smiling. Just before this photo, she'd spent 5 minutes unconnected, unresponsive, out of it. Totally not the old Lena.
Thank goodness for the mobile! As soon as Annelie held that little rectangular slab of plastic and magic in front of us, we couldn't help smiling. Even with dementia. We need more happiness triggers like that.
Late news: Low confidence in transport 
We've left Annelie and we're catching the bus home. It's rush-hour in the centre of Manchester. All the seats are taken on the lower deck, so I lead the way up the stairs, holding Lena's hand. We've done it a hundred times before. I'm almost at the top when the bus moves off. Lena freezes.
The people on the upper deck – it's pretty full too – can see my head and shoulders and wonder who or what I'm trying to coax up the stairs. 'Come on, Lena. You can do it. Three more steps.' I try to haul her up, not with too much force or I know she'll dig in even more. Finally – after an endless 30 seconds – she relents and takes an uncertain step forward, then another, panting and distressed. 'One more!' And she's up.
I turn, and two people at the front, near the stairwell, immediately stand to offer their seats. Don't tell me community is dead. Time and again I've had help from strangers when they've spotted me or Lena struggling.
I turn back to Lena, ease her forward along the aisle, and bundle her into the first seat, now free. I turn round to find the girl who was there before, to thank her. I think it was that one with the dark hair, three seats back, the other side of the aisle. I mouth 'Thank you'. She has a half-smile on her face, but our eyes don't connect. This is public transport in England, after all. There are rules.
So now I need to settle Lena down again. I have just the thing in my bag. The big bar of chocolate-coated marzipan that's her market favourite. 
In my head I'm making calculations and adjustments. How will I get Lena down the stairs again? At the lights just before our stop? We always seem to wait there for a minute or two. Will it be long enough? And how will I work around this new problem in the future? Is it Alzheimers taking a stronger hold, or just a general lack of exercise that's suddenly causing mobility problems? Let's at least try a daily exercise routine and see if it makes a difference.