Crime Scene
The taxi was outside the front gate. I hurried Lena up to it and opened the door for her. She looked down at the small back-seat space inside, and froze.
– No. No. I don't want to.
– Come on, Lena. It's just a car. You can do it.
But her body was rigid. It took two minutes of coaxing, and easing and – well, yes, a little pushing – before I could get her bottom onto the seat, and then her head inside the door. Now I just had to somehow get her legs in too, one at a time. Her resistance wasn't over. As I folded one leg in, the other kicked out.
– Ouch. Ai – it hurts!
The driver said nothing, didn't turn round. From down here on the floor with Lena's legs, I couldn't see, but I knew he was watching the struggle in his mirror. What was he thinking? That I was trying to kidnap this woman or something?
– Sorry. We have a little Alzheimers situation.
– Ah. 
– Ow!
Finally, she was seated and belted. Door closed, and I dashed round to get in on the other side.
– There. Happy now?
– Dum-ti-dum-ti-dum-ti-dum-ti.
She was. And now the driver spoke up.
– I'll put the child-lock on.
– Yes, good idea. Thank you.
I sat back and began to relax, reflecting on the new symptom. When it happened last time we got into a taxi, I thought it might be a one-off. But no, it looked like this was a new behaviour. Fear of travel? Probably not – Lena's fine on the bus or the tram. Claustrophobia? Maybe.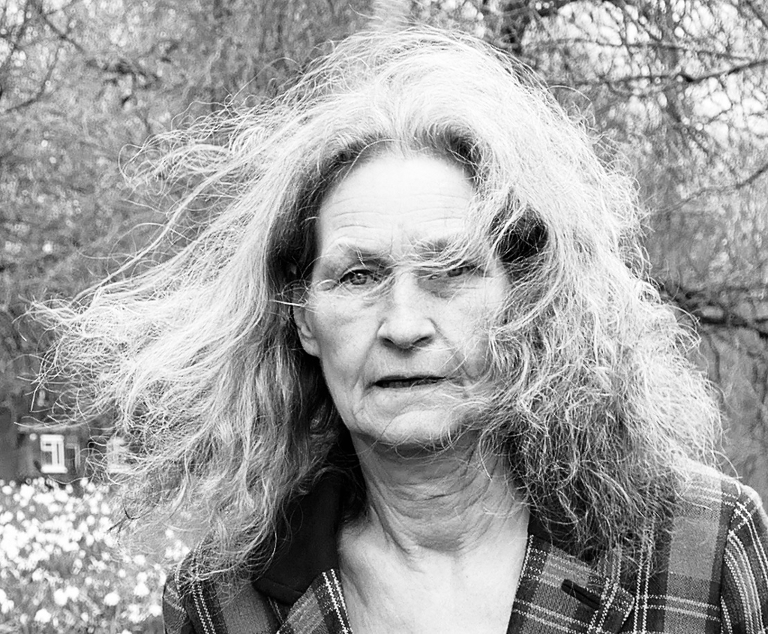 Confession
How was it that Wordsworth described poetry? 'Emotion recollected in tranquillity'. That's exactly why writing our story, Lena's and mine, is so important for me. Writing needs thought, and thought takes time, and time creates distance. Sometimes the new perspective helps me to see events in a different light entirely.
It may be true that Alzheimer's has scrambled into another corner of Lena's mind and taken up residence there. The next time we get into a car, there may be a repeat performance.
But looking back, I realise now that my own anxiety levels were just as high as Lena's, maybe more so.
You see, it takes time to get Lena ready to go out. Fifteen minutes in the bathroom, then finding something to wear, getting the right leg in the right hole in the right trousers, hunting for the shoes. Under normal circumstances, I've trained myself to be patient, enjoying the rewards. When you're not under pressure and there's time for a smile and a game and a little song, it can be just as pleasurable and rewarding as the time we used to spend washing and changing our babies and getting them ready.
But when there's a taxi at the door and they've already been waiting for five minutes, there's no time for fun. Lena's blissfully unaware these days of her impact on others; I'm completely the opposite. It wasn't the meter that mattered, but the sense I was letting the driver down somehow by keeping him waiting.
So when I finally open the front door, and Lena's wandered off to the back of the house, I'm hollering at her – 
– Lena, where are you? Come on! We've got to hurry. We'll be late.
And when she gets tangled up in the front gate, I don't give her time to figure it out. I grab her by the hand and hurry her to the taxi.
By the time we reach the car, my angst has already transferred itself to her. I'm flustered so she is too. I'm forcing her. And what do we do when someone tries to force us into something? A lot of us would fight back – have done since we were kids.
So who – or what – caused the struggle? Was it Lena's anxiety … or was mine contagious? Or was it a little bit of both of us?
Changing My Ways
In the old days Lena always put other people first: everyone who knows her will tell you it was her life's mission to please. But today, Alzheimers sometimes makes her wilful, stubborn, intransigent. As she's changed, I've had to learn. And one of my biggest lessons was learning how to defuse a situation. Trial and error has taught me that the best way is to stay calm, speak quietly, give her time, not force her, not make a scene.
I don't always succeed.  When I do though, the storm blows over quickly. Lena's forgotten the incident a minute later. I try to do the same, remembering it's not Lena – it's Alzheimers.
So what will I do next time? Because there will be a next time.
First I need to take down my own anxiety level a notch – several notches. I should have told the driver at the outset that there might be a problem – it might take time to get Lena into the car. I could have done it when I called in the booking. Or stepped across to explain quietly to him as soon as he arrived. He'd have understood. People always do. And then I could have stopped fretting about how long we were keeping him waiting.
I'm not proud of the way I eventually did tell him, just when the situation got really stressful. I was deflecting the blame away from myself, 'A little Alzheimers situation' was code for 'It's not me, mister – it's her.' How did that make Lena feel? I doubt she understood the words or the implication, but dementia doesn't strip away the ability to read emotions. She certainly sensed my frustration and that she was somehow the cause of it. It didn't help.
But back to reducing my anxiety. In the later stages of dementia especially, it can become almost a persistent state for the dementia carer. You're always on the lookout for the next thing that might go wrong. If I'm away for a few minutes, even just upstairs, did I remember to lock the door? Is she safe in the kitchen? That plum I just gave her – might she choke on the stone? Is it time for a bathroom visit? Over time and without a break, the tension can just build and build, till you reach the point where it's hard to handle anxiety well. Calmness and composure? It flies out of the window.
That's why our planned day-activity centres – The Bine – are just as important for dementia carers as for those diagnosed. We've worked out a way to give carers a break – not just for an occasional hour or two but for the whole working-day, five days a week. Better still, our scheme is effectively free – so carers won't have the extra worry of finding a way to pay for the service.
With time for our anxieties to subside, I'm sure we'll have better self-control – and be better carers. And as for me … well, hopefully my kidnapping days will be over.
THINK OTHERS WOULD ENJOY OUR STORY? THEN PLEASE SHARE IT
Enjoying our site?
Then don't miss a post. Our weekly newsletter includes:
* All the articles
* Exclusive Bine updates
* How you can get involved