Enjoy writing? Or is it something you'd like to try? Do you want to save treasured dementia moments for yourself and your family, or share them to help others on the same journey as you? Then here's an invitation to work with us – to get writing, develop your skills, and hopefully get more readers.
Dawn's story
My maternal grandfather came to live with us some time after his Alzheimers diagnosis. I had young children so the mess-making was no different – and my mum got her clean home back.
The children loved his stories and saw that he got delight from puppies, flowers, food, toys, scenery, a favourite well-worn jumper, Norman Wisdom, the Two Ronnies, songs from his past, maths times tables, sport on TV, and ball skills – catch, hit or kick. He was quite happy to be audience material rather than be "on stage" but I can see that doing something practical and "mentoring" volunteers would have suited him – it was what he had done in his work in a factory. Either with woodwork or at home in the garden.
Getting out was stimulating and gave him interest even if he couldn't remember details. It was all about enjoying living in the absolute present…
His favourite ice-cream was rum and raisin – the children (now in their twenties) still bring up the fact he got to the stage where he would enjoy it but spit the raisins out. "Can't think what these bits are doing in this", he'd say with each mouthful.
Anyone who's lived close to dementia will have shared my fond smile reading that last paragraph. It's a smile of recognition, the smile we reserve for old friends. The person we know may never have eaten rum and raisin ice-cream, but the truth of Dawn's story shines through immediately. That's exactly how the person we love would have reacted. That's exactly what they would have said.
Little dementia stories and anecdotes like this – even just a couple of hundred words – are so valuable. For the writer, it's catharsis. No matter what the difficulties may have been, there were also these moments of pure pleasure and, quite often, comedy. No, we're not laughing at the person. We're remembering with warm affection the personality they really were, and by writing it down, we're preserving good memories.
A shared story helps others. Carers reading them realise they're not alone after all. Those who've had no contact with dementia will recognise the humanity in the story. It demystifies the illness, makes them less afraid to encounter it. That's how we create dementia-friendly communities.
Learning to write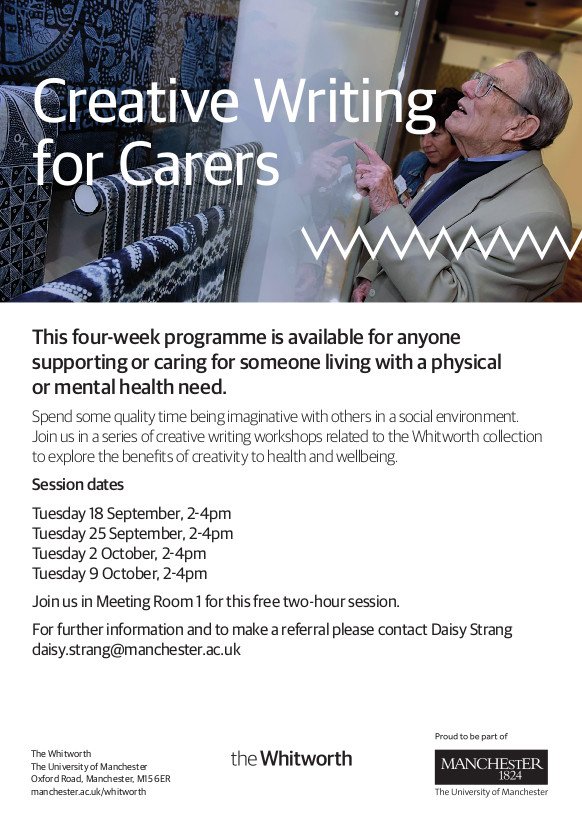 Here's a perfect way to get started with writing your dementia stories – a free series of writing workshops. Or at least it would have been perfect if I'd given you a little more notice – sorry, I only just got the information and it starts today, Tuesday. Perfect if you lived in Manchester. (Does anyone know of similar courses elsewhere?) Perfect if you could free yourself from your carer duties for a couple of hours every Tuesday.
The last problem is serious for many of us carers. I'd have loved to go to the workshops but it just isn't possible. I can't leave Lena unattended for a couple of hours. What about getting help in? Frankly, I can't afford it. So unless one of my kids happens to be free …
This is exactly why we need The Bine, our plan for a network of day activity centres where people with dementia can spend the day engaged in meaningful activities, leaving their carers free most days of the week. It's not just about giving carers a break. The Bine will allow them to have a full life of their own – to work, to study, to get serious about their interests.
One of the activities at The Bine might well be a course of creative writing – for both carers and people with dementia. (There are people diagnosed producing extraordinary work – check out Wendy Mitchell and Minna Packer). And it would be good to collaborate with the people delivering the workshops at the Whitworth. Perhaps, as the number of Bine Centres grows, we'll be able to help them to extend their reach beyond Manchester, if that's what they want. Perhaps they could train others to deliver workshops the Whitworth way. They'll help us and we'll help them. That's the way we'll do things at The Care Combine. That's what makes it a Combine. 
Write with us now
So maybe you're a carer – or a person with dementia – and you enjoy writing or you think you'd like to try. And you can't get to a workshop. Well why not join The Combine now and write with us? Not for us. With us. Let me explain how it would work.
We're looking for dementia-related anecdotes and short stories. We'd like to add them to this website, but also we'll be using stories as we train staff and helpers at The Bine. At some point too, we'd like to publish a collection of short stories with the proceeds from sales helping to fund Care Combine operations.
What are we looking for? Honesty always. Humour, if appropriate. Stories that give fresh insights, or capture the essence of dementia (as the rum and raisin ice-cream anecdote did). Writing that puts the emphasis on narrative rather than instruction, although if the story has a moral that's always good. A photo you've taken or something you've drawn is always helpful – something that'll get the reader's attention.
If you have something like that, and you'd like us to publish it on the site, email it to me – alan@carecombine.org. 
The next step? I'll read your story. If we can't use it, I'll write back to you and explain why not. If we can, I'll put my editor/publisher hat on. I may suggest changes, again explaining why, but the final decision will always be yours. It remains your story – and your copyright, even if it appears on our site. But just like someone running a writers' workshop, we'll act as facilitators – encouraging you to write, helping you to shape your content to make it a good read for your audience.
What if you have your own website and you've already published the story there? That's not a problem – in fact, it's an advantage. When we publish, we'll include links back to your site and to your original story. Hopefully we can help to build your audience as well as our own. 
Like to help?
If this takes off, I'm going to need some help. If you have publishing or editing experience and you'd like to get involved, please let me know.
Enjoying our site?
Then don't miss a post. Our weekly Sunday newsletter includes a digest of all the week's articles.

Get exclusive content too:

Tuesdays: Carer tips
Fridays: Latest Bine updates